Sport
Competition Success
Gymnastics Success
Sarah Fisher 9E competed for London recently in Birmingham in the over 15's Fig Development against finalists from the UK, Scotland, Wales and Northern Ireland. Sarah came 4th out of the 12 regions competing just missing 3rd place by 0.32 of a point and has qualified tor the British Gymnastics Final in Coventry in July at the same level.
Athletics Match Report
On the 24th January 2019,5-year sevens and 8-year eights went to an indoor athletics competition at langley park boys school. The first race was our year 7 two lap individual race, we placed 3rd. Our year 8 girls 2 lap individual race, we placed 3rd and 4th. The next race was the 4 x 2 relay and our year sevens came 3rd and so did the year eight team. The final track event was our year 8 and 8 eight laps. The field events were exciting, we competed in a diverse of events. We did extremely well in the triple jump by getting 6 meters. We also did exceptionally well in our standing long jump, the speed bounce and the vertical jump. The final event was the obstacle relay. Our year 7 team came 4th and our year 8 team also came 4th. Overall, we did very well. Our year 7 team came 7th out of 8 teams and our year 8 team did exceptionally well and came 3rd out of 8.
Year 8/9 Netball - Tuesday 22nd Jan 2019
All of the girls played really well in the most intense game so far, finishing the first quarter leading by 3 (great work from both of the shooters and the defence), right up to finishing the 3rd quarter at 5-5. This left the team eager to get back out and play the last 7 minutes! During which the ball was constantly up and down the court taking us to a 8-8 draw in the final minute, where the girls really pulled together as a team. starting with the fantastic interception from our GD playing the ball beautifully through each 3rd, as the pressure started rising for out shooters a brilliant shot went straight through the net, 8-9, we did it! A huge well done to all of the girls who came to play, great effort from everyone on and off the court the support and team sprit was excellent from all of them. Extra shout out for the nominated player of the match our GD (Deshante).
Inter-Form Charity Benchball Competition
27th November 2018 - Inter-form charity Benchball competition. Congratulation to 9E for organising the 2018 Benchball competition and raising £32.51 for Cancer Research. Also well done to the following forms for entering the 2018 Benchball competition:7R, 7H, 8S, 9E, 9C, 7U, sixth form boys.
---
Results:
1st Sixth form boys
2nd 9E
3rd 8S
4th 9C
5th 7R
South East Regional Trampolining
Sunday 25th November: Congratulations to Sarah and Phoebe Fisher for representing Chislehurst School for Girls in the London Schools regional final in Hayes Middlesex. Both girls did the school very proud. Sarah came 3rd out of 33 gymnasts and Phoebe came 4th out of 50 gymnasts. We wish both girls good luck for the next competition.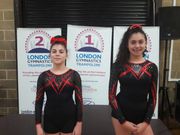 Year 7 Netball
Well done to the Year 7 netball team for competing against six other schools in the Borough to try and compete for a place at the London Youth games held on Wednesday 21st November.
The team included: Alice Fraser, Josephine Hedderman Thompson, Taylor Crouch, Chloe Monk, Olivia Hurley Slade, Lottie Rose, Tschissola Brandao, Fareedah Aleshe, Laxana Sinniah, Adewonuola Phillips. With each game, they went from strength to strength and the PE Team were very proud off them. Players voted 'Player of the tournament' went to Josephine. Miss Durrant's 'Player of the tournament' went to Adewohuola.
"Well done to all the girls in the Year 7 Netball team! We may not have come first but no matter what, we got up and carried on playing. The competition was hard and we were up against good schools such as Bromley High School (the winning team), but through the match everyone kept their heads held high and carried on smiling throughout.
Well done to Josephine for being player of the match, as voted for by the team themselves. Also, well done to Adewonuola for being player of the match as chosen by Ms Durrant. Thank you to Mrs Mclean for coaching and training us. Everyone in the Netball team will be attending the Netball club after school on Tuesdays and I think it has boosted everyone's confidence in playing netball, so thank you to Jill."
BSGA London Schools Trampoline Competition 2018
Following the fantastic success of the School Borough trampoline competition on the last day of term, we achieved the following results:
---
YEAR 7
The Year 7 team (Phoebe, Isabelle, Ruby, Clarinda, Esther and Georgia) came 2nd out of 8 teams.
Pheobe came 2nd out of 36 pupils. Georgia 7th and Ruby 15th.

YEAR 8
The Year 8 team came 4th and 5th out of 8 teams (Macey, Vivan, Olivia, Maddie, Abi-Gayle, Olivia and Ria. Macey coming 13th out of 31 pupils.

YEAR 9
Sarah coming 4th out of 33 pupils.

YEAR 10
Danielle coming 10th, Beth coming 16th and Tiana coming 11th out of 18 pupils.

YEAR 11
Francesa coming 11th and Ellie coming 14th out of 24 pupils from Year 11-13.
South East Regional Trampolining Competition
Congratulation to Sarah and Phoebe Fisher for competing in the South East Regional Trampolining competition on Sunday 18th November.
Sarah competed at Under 19's Regional F grade- Open and won Gold
Phoebe competed at Under 15's F grade- Open and won Gold.
Next weekend, both girls will be competing in the London Schools Competition.
CHSFG Sport Award Evening 2017-2018
Player of the Year Awards
Netball
| | |
| --- | --- |
| Year 7 Grace Bennett | Year 8 Lydia Simms |
| Year 9 Holly Collins | Year 10 Adeola Adelaja |
Rounders
| | |
| --- | --- |
| Year 8 Kaydence Kabadaki | Year 10 Jessica Beckett |
Badminton
Football
| | |
| --- | --- |
| Year 7 Amanah Tasadiq | Year 8 Kaydence Kabadaki |
| Year 10 Ellie Wilkinson | |
Trampolining
| | |
| --- | --- |
| Year 7 Abi Bryan | Year 8 Dilly Roberts |
| Year 9 Alice Brown | Year 10 Francesca Nelson |
Cross Country
| | |
| --- | --- |
| Year 7 Olivia Magee-Brown | Year 10 Emily Davis |
Athletics
| | |
| --- | --- |
| Year 7 Chi-Chi Garland | Year 9 Tianna Haynes |
| Year 10 Zsiriah Thomas | |
Dancer of the Year Awards
| | |
| --- | --- |
| Year 7 Rhianna Scott | Year 7 Ola Aguocha |
| Year 9 Eve Solomons | Year 10 Millie Partridge |
Commitment to a sport throughout their time at CHSFG
Dance
| | |
| --- | --- |
| Ioanna Bankova | Tilly Hazell |
| Millie Partridge | Mia Hemple |
Rounders
| | |
| --- | --- |
| Jessica Beckett | Adeola Adelaja |
| Zsiriah Thomas | |
Football
| | |
| --- | --- |
| Ellie Wilkinson | Katie Cornhill |
| Francesca Nelson | |
Athletics
| | |
| --- | --- |
| Zsiriah Thomas | Adeola Adelaja |
| Jessica Beckett | Katie Cornhill |
| Madeleine Smith | Emily Davis |
| Emma Underwood | |
Cross Country
| | |
| --- | --- |
| Madeleine Smith | Emily Davis |
Trampolining
| | |
| --- | --- |
| Megan Beer | Francesca Nelson |
| Zsiriah Thomas | Ellie Harden |
| Lucy Powell | |
| | |
| --- | --- |
| Key Stage 3 Most Improved Player | Holly Collins |
| Key Stage 4 Most Improved Player | Katie Cornhill |
| Key Stage 3 Sports Personality of the Year | Mya Bullen |
| Key Stage 4 Sports Personality of the Year | Jessica Beckett |
| | |
| --- | --- |
| Sport Team of the Year | Netball |
| Jessica Beckett | Adeola Adelaja |
| Emily Davis | Krishnavi Poologasingam |
| Emma Spanswick | |