UCAS and Careers
ucas
At Chislehurst Sixth Form we have a tailored programme to support students with their UCAS applications to their chosen universities. Students have group taught sessions, as well as individual tailored sessions to support them with their UCAS form and personal statements. Students continue to receive support and advice, including on accommodation, final choices and clearing, after they have applied to UCAS. Following applications, students may be eligible to use 'Clearing' or 'Clearing Plus' within UCAS and apply to new courses. The following link has further information:
Looking for a course in Clearing? Learn how Clearing works & find a new place (ucas.com)
The link below, from UCAS, has a wealth of information for parents and guardians on how to support their son/daughter throughout the application process:
Advice For Parents And Guardians | UCAS | Parent Guide To University
APPRENTICESHIPS
Did you know if you undertake an apprenticeship you get paid while training?
After one year, you get the national minimum wage – whatever that is at the time.
For more information about apprenticeships, see the useful links further down this page.
There are three levels of apprenticeship:
Intermediate (L2) – roughly equivalent to GCSE
Advanced (L3) – roughly equivalent to 2 A levels
Higher (L4-7) – above A level and professional qualifications
Amazing Apprenticeships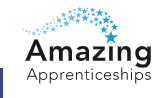 Amazing Apprenticeships are a leading organisation in the education sector, founded to tackle misconceptions about apprenticeships and promote the benefits. If you click on the hyper link (in light blue) "search for vacancies" and then choose an apprenticeship you like.
Apply – they will ask for a CV and letter of application – There are tips on how to write these two documents on the same website.
Other Info:
(Don't forget there is also a National Careers Service website)
www.nationalcareersservice.direct.gov.uk or try www.careersworld.co.uk
USEFUL WEBSITES
VALUABLE READING