School Uniform
Our Uniform is available to purchase online through John Lewis & JK Clothing in Eltham provide an embroidery service for CHSFG PE kit. Please note however that John Lewis, Bluewater, does have Uniform items in stock to try on for sizing, but does not sell our uniform in store.
To purchase items of CHSFG's uniform online please Click Here to be re-directed to John Lewis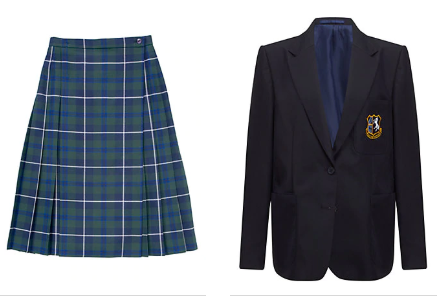 Reminder to all Years 7-11 students and parents: During very cold and icy weather, school uniform rules remain as normal on and around our school site. Boots or shoes over the ankle, should not be worn in or around school. we appreciate they may be necessary for the journey to and from school, and girls must bring suitable shoes to change into, if this is necessary. Acceptable colours for coats, hats, scarves and gloves remain NAVY or BLACK only. Sleeveless coats/gilets are not acceptable, nor are footless tights and coloured socks.
Thank you to all our students and parents who maintain very high standards of uniform throughout the year.
School Supplier: John Lewis, Bluewater Greenhithe,Kent, DA9 9SA 01322 624 123
These items are only obtainable from our School Supplier. Please note that John Lewis at Bluewater does NOT sell our uniform but offers a 'try on' service.
Chislehurst School blazer
Chislehurst School kilt.
Two Chislehurst School blue blouses, long or short sleeves (these must be worn tucked inside kilts).
Chislehurst School scarf or plain navy or black scarf (football and other coloured scarves are NOT permitted).
Also:
Plain dark navy blue or black overcoat; or plain dark navy blue or black lined raincoat; or plain dark navy blue or black duffle coat; or plain dark navy blue or black anorak. We do not permit the wearing of sheepskin, leather, fur fabric, denim, suede, velvet, silk, satin or PVC jackets.
Plain Black shoes with low heels. Heels and toes must be enclosed. TRAINERS OF ANY COLOUR ARE NOT PERMITTED, NOR ARE BOOTS OR ANY OTHER ARTICLE OF FOOTWEAR WHICH COVERS THE ANKLE.
Black or neutral tights in a plain design must be worn at all times.
Every girl should have a large, waterproof bag, of a dark colour, big enough for carrying school books and equipment.
FOR PHYSICAL EDUCATION:
Navy blue polo type shirt with pale blue panels
White socks and white sports trainers (no plimsolls, converse, vans or high-tops)
Navy blue skirt with pale blue panels (for team players, optional for others)
Navy blue shorts with pale blue panels
· Plain Navy tracksuit trousers
· Sweatshirt with the school logo
· Strong sports bag
· NB All jewellery and watches must be removed for safety reasons in PE lessons.
· EVERY ITEM MUST BE MARKED WITH THE OWNER'S NAME (stitched on polo shirts and sweatshirts on the left chest area, on shorts and tracksuit bottoms on the left leg – JK Clothing in Eltham provide an embroidery service for CHSFG PE kit).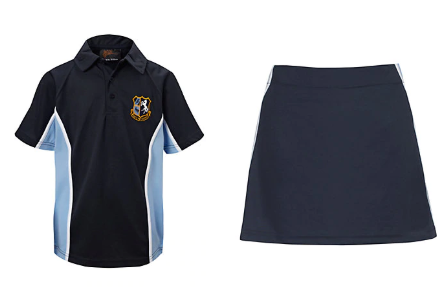 During Physical Education lessons, all valuables must be handed to the Physical Education teacher, who will keep them in a secure bag during the lesson. Valuables must only consist of permitted jewellery, keys and a small amount of money. Teachers will not accept mobile telephones, iPods and similar devices. Should you permit your daughter to bring these items into school, they must be secured in the student's locker. Teaching staff will not be responsible for the loss of, or damage to, such items.
PLEASE NOTE:
· The wearing of any form of body jewellery, i.e. rings, bracelets and necklaces, is NOTallowed - with the exception of a watch and one pair of very small plain gold or silver stud earrings (to be worn in ear lobes only). Nose and/or tongue studs or other body piercings, must NOT be worn in school.
· Only plain navy blue or pale, plain blue ribbons, slides, or clips are allowed for tying back hair. Hair must be a natural colour.
· The wearing of make-up and nail varnish is NOT allowed.
· The School recommends that mobile telephones and/or iPods are not brought into school. If a student, with or without their parents' permission, chooses to bring them into school, the student is responsible for their safe keeping. The School does NOT accept liability for any damage and/or loss of such articles, which should be covered by suitable insurance taken out by parents/carers.
· Chewing gum and Tippex are NOT allowed in School.