Independent Catering

Menu - 2023/2024
Tariffs - 2023/2024
A4-tariff-breakfast-09.2023CGS.pdf
A4-tariff-lunch-09.23-2.50CGS.pdf
Independent Catering is the FRESH FOOD caterer at school offering varied menus using fresh U.K. meats, fresh salads and fresh vegetables every day from our local suppliers. Please see below a typical menu.
A cash-less payment system is operated, reducing the problems of cash in the school and encouraging healthy eating. Cheques must be made payable to INDEPENDENT CATERING and received in advance with the student's names and address on the reverse.
This credit balance is debited each time a student purchases food items from the cafeteria at breakfast, break and lunch. A maximum daily spend limit of £5.00 (please state on tear off slip below or email us, should you wish to have a different daily limit); however an average daily spend is estimated at £3 per day. Main Meal and Dessert is £2.
In addition to the above, a freshly made selection of sandwiches, filled rolls and wraps, potted salads, salad bar, fruit salads, pasta/rice/noodle dishes of the day, filled hot panini breads, home-made soup of the day, filled jacket potatoes, biscuit and cakes, hot and cold drinks are available daily
Are you entitled to free school meals? If you or your partner get one of the following: Income Support, Income-based Jobseeker's Allowance, Income-related Employment and Support Allowance, your daughter may be entitled to free school meals. Contact Revenues and Benefits for details.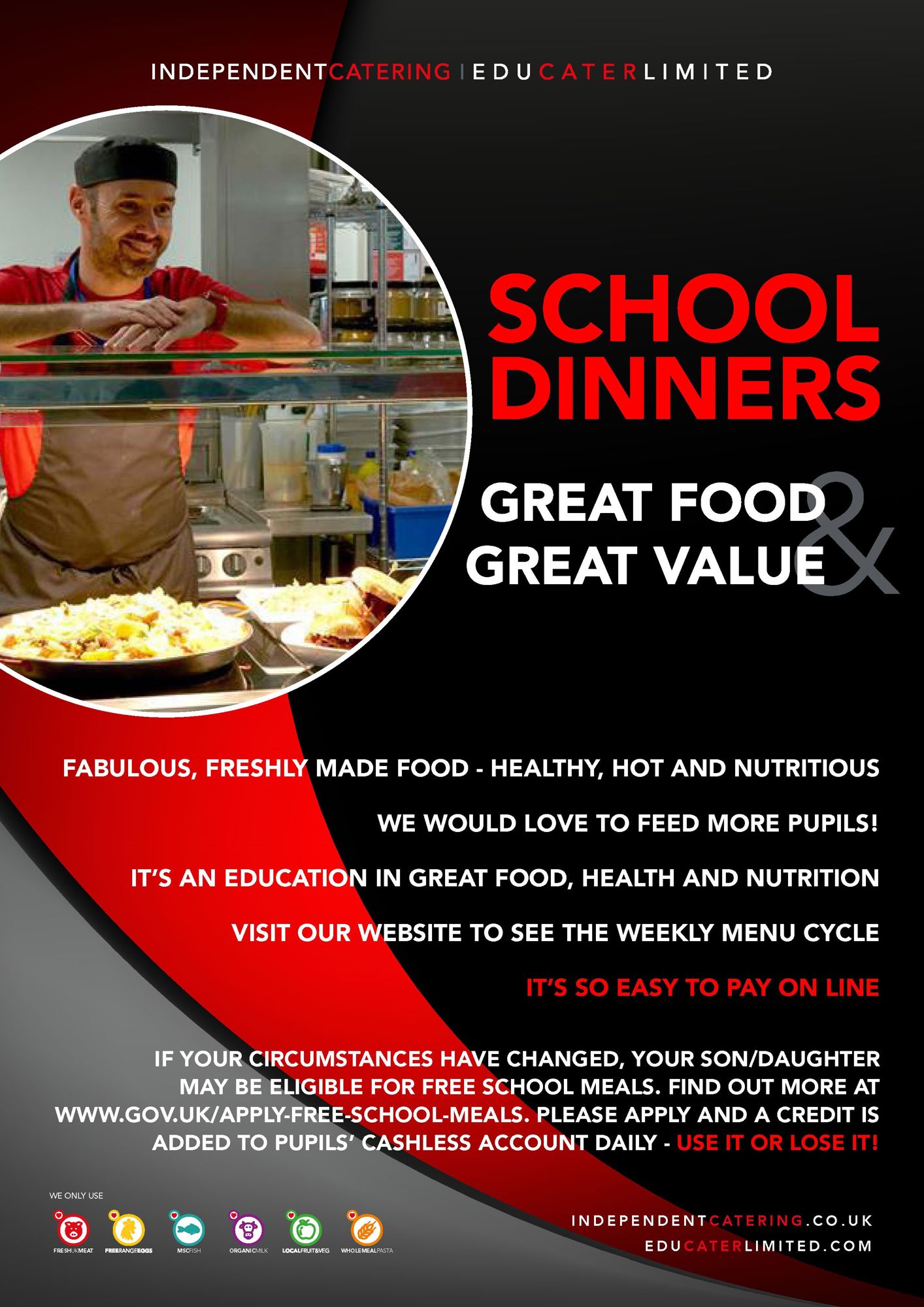 PAYMENT CAN BE MADE ONLINE ONCE YOU HAVE YOUR DAUGHTER'S 'SQUID' PIN NUMBER (SEE BELOW FOR DETAILS)
Future online payments! Independent Catering has introduced a new online payment facility. This will enable you to see balances, purchases and credits. A letter detailing your child's sQuid registration PIN number will be issued. Should you not receive yours, please email via our website below stating the SCHOOL-YOUR DAUGHTER'S NAME & FORM. PIN numbers are issued during the first week of September. Do not start the SQUID registration process below until you have your unique registration number and three-digit security code.
Squid is a new way for you to top up your child's school cashless catering account online. sQuid is FREE to get, and FREE to use for Debit Cards.
Please register your details with sQuid once you have your PIN number and create an account.
How to create your own online sQuid account:
Go to the following web page www.independentcatering.co.uk where you will find your school listed under sQuid. Click on your school link.
On the sQuid web page, select 'Click here to register' to create an account and register your unique sQuid registration number.
Create a sQuid account by registering your details and create your own Username, Password and security question and answer.
Register your sQuid registration number and 3 digit security code
Once you have created a sQuid account and registered your sQuid registration number you will also be able to manage your sQuid account online at anytime:
Check your account balance
Top up your account from your bank account, credit or debit card
View transactions
Update your details
Receive a low balance reminder
Please refer to the sQuid web site for full Terms and Conditions