A Level and GCSE Results
Aug 24
Last week we celebrated the tenacity and determination of our Year 11 and 13 students, who have held their nerve, continued to work hard and kept their eyes fixed firmly on their futures. When all around them was changing, these students demonstrated true resilience and grit and have subsequently triumphed.
We are so proud of their achievements, but perhaps even more so, of the way that they have looked after themselves and each other; being a real Chislehurst family together.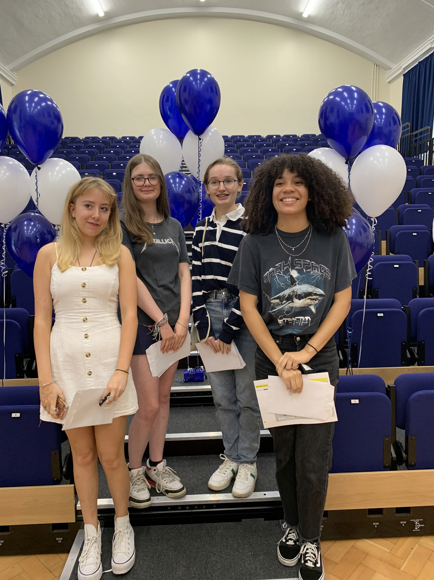 It is so wonderful to see young people delight in each other's success, as well as their own. We are tremendously grateful to the teachers for all of their hard work; they have stepped-up and been tireless in their endeavours in the true 'Chislehurst way'. We also appreciate our families and carers, for all of their support and never underestimate the encouragement and positivity that will have been needed from home over recent months, too.
We look forward to welcoming many of our Year 11, as well as new students, back to their co-educational sixth form in September, for a variety of wonderful courses. Some will be on our Exceptional Scholars Programme, in preparation for the most competitive universities and courses. To our outgoing Year 13, we wish you every success as you head for pastures new: destinations include their first choice Universities of Nottingham, Sheffield, Kent, London South Bank, Brighton and The Royal Veterinary College. Some students will be taking up competitive first-class degree apprenticeships with ARUP (Transport) Grant Thornton (Accounting) and KPMG. Whatever your path, we are proud of each and every one of you and you will forever be a Chislehurst student and part of this fine tradition. Congratulations, all!
Mrs French, Headteacher.
Headline Results for 2020/21
A-Level
| | |
| --- | --- |
| A*-E | 99.54% |
| A*-C | 71.23% |
| A*-B | 37.44% |
| Dist.*-Pass | 98% |
GCSE
| | |
| --- | --- |
| 4-9 English | 83% |
| 5-9 English | 64% |
| 4-9 Maths | 74% |
| 5-9 Maths | 54% |
| English & Maths 4-9 | 71% |
| English & Maths 5-9 | 49% |
| Progress 8 | (TBC) |
| Attainment 8 | 50.91 |
| English Bacc. 4+ | 34.39% |
| English Bacc. 5+ | 27.39% |