An Introduction to our new Headteacher - Mrs French
Jul 21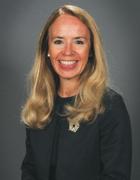 It is my great privilege and honour to serve as Chislehurst School Headteacher from September. I am really looking forward to getting to know you, and to eventually meeting you all face to face. Whilst school may seem very different at first, we will soon get into a new routine together. I am keen to understand your experiences and I know that, whilst some of you will have enjoyed the space and the time at home over recent months, others will have had worries and real challenges to face. It will be good to talk, when we are able to.
For now, I wanted to share briefly with you about why I am excited to be joining Chislehurst School for Girls. I am really passionate about girls' schools and their transformative powers. So much research supports the notion that girls take centre-stage in a school such as this, have their voices heard, create a culture of achievement and are empowered to become courageous leaders. I have very fond memories of my visits to Chislehurst back in February, and although this seems like a whole world away, I am keen to re-engage with the ideas and vision for the future about which some students spoke. I particularly remember hearing of the passion and determination from a student involved with the eco-committee and her work towards achieving sustainability and climate change. I was delighted to note, in the previous newsletter, that students have since achieved the Bronze Award. Having a real heart for social justice and equality is vital. Although Joe Wicks has been amazing at keeping us all on the move in the mornings, I am sure that many students are very keen to get back outside to enjoy sport and competition and of course, the joy of dance, drama and music - all of these things are such an important part of school life.
The school motto of 'aim higher' is a very inspiring one to me. It was Michelle Obama who wanted to go to Princeton University, but was advised that she was setting her heights 'too high.' Well, we all know that as a highly successful Princeton, and then Harvard Law School graduate, she surpassed all expectations. I think it is so important that students listen to their own inner drive. All things are possible and I know that determination and hard work can open doors for everyone, allowing all of our students to take control of their futures. When we reflect on the nation and indeed the world's recent challenges, perhaps we should all be reminded to 'aim higher'. I was due to speak at the International Girls' Schools conference in Philadelphia, USA recently, where advocates of girls' schools from all over the world meet to discuss and present research on key agenda items. This year's theme was 'Stand Up, Speak Up: Raising Girls' Voices.' Even though events made this trip impossible, there is always an opportunity for reflection when our plans have to change; perhaps we don't need to fly all the way to the States to evangelise about the power and importance of girls, and indeed all students, having a voice and teaching the art of public speaking, but to drive it forward right here at home in our own school communities. I care deeply about these things. And so, looking ahead, my drive is for academic excellence, high standards and a strong pastoral system, built on mutual respect and placing the well-being of the child or young person at the heart of school life. Never before has the need to do this been so urgent.
I know that this is a happy school, with outstanding staff who are committed to the success and security of all students. I am looking forward to writing the next chapter in the school's history with you all, and building on the inspirational service and dedication of Mrs Raven. I hope that you stay safe and look after yourselves and each other, and I will see you very soon, I am sure.
Mrs M French