Parents Information
We would like to extend a very warm welcome to all of you who have gained a place at Chislehurst School for Girls.
We are delighted that you will be joining us in September and we are already planning exciting events and activities for your daughter. Unfortunately, due to the current circumstances, we will not be able to carry out visits to Primary Schools. Instead, we have contacted all Primaries and requested information about each student who is joining CHSFG in September, 2020.
Remote Induction Presentation
Please find below our New Year 7 Induction talk, as well as a downloadable version of the full presentation.
Download the full presentation below:
Important Upcoming Dates:
New Year 7 Virtual Induction Day - Tuesday 7th July 2020
Summer School - 22nd - 23rd July 2020
Important Links
The School DayOffice 365 Student Advantage
---
Catch up funding information:
Departure Times
Year 7 Departure Time
We are currently working with Bromley Borough and Transport for London (TFL) to address our concerns about the over-crowding at the bus stops on Perry Street at the end of the school day.
In order to ensure the health and safety of our students outside school, we have taken the decision to continue with the early departure for Year 7 only at 2:50 p.m. each day, apart from Mondays when they have extended learning until 4:00 p.m. Once TFL and Bromley Borough have resolved these concerns, the timing of departure will be reviewed.
We would also like to take this opportunity to remind Year 7 parents that Beaverwood Road at the end of the school day is very busy and double-parking is not permitted as this is a public highway.
We would like to thank you for your support in these matters.
Yours sincerely,
Mrs D Forder Mrs A Hodgson
Deputy Headteacher Assistant Headteacher
Year 5 English Transition Project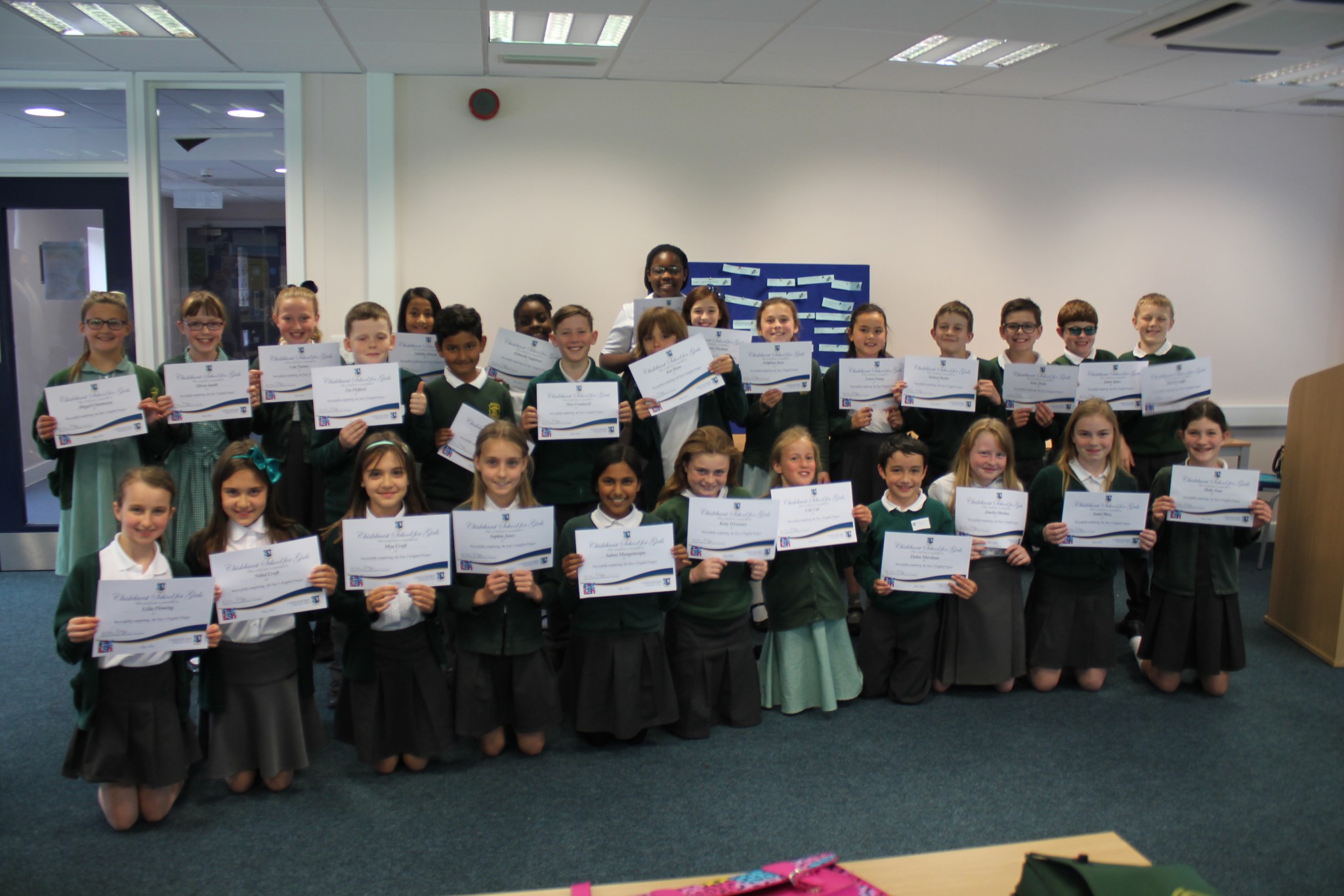 Year 5 pupils from Birkbeck Primary School, together with their teachers, came to Chislehurst School to learn some interesting and challenging English techniques throughout the day. They also enjoyed a hot snack in the dining hall. All of the students received certificates in recognition of their excellent progress and work.
Mrs S Kay
Director of Primary/Secondary Transition
---
Year 5 Mathematics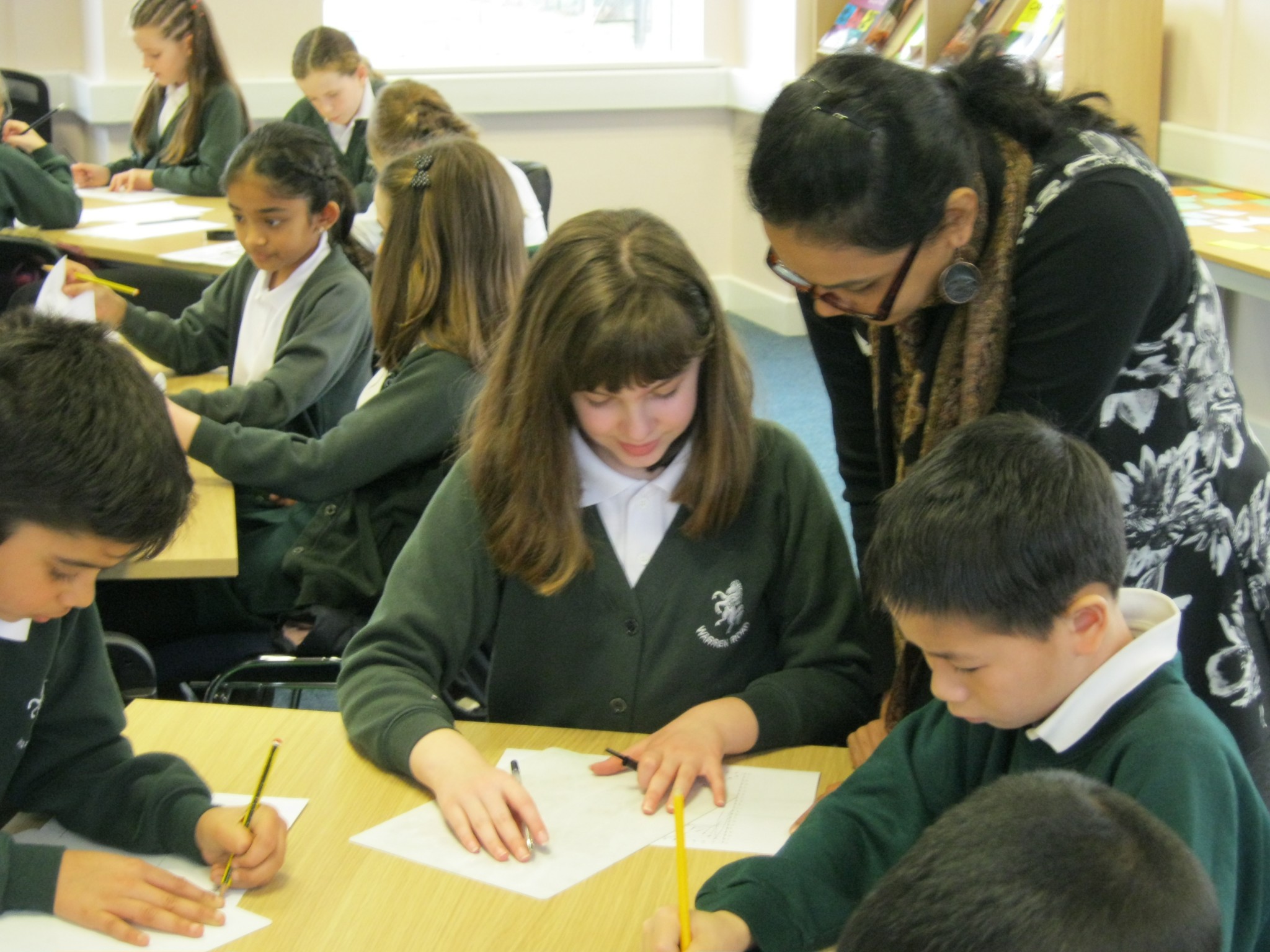 Year 5 pupils from Warren Road Primary School, together with their Headteacher, Mr Edmonds, came to Chislehurst School to take part in some Mathematics workshops. Mrs Bankova taught them some interesting and more advanced mathematical techniques throughout the day. They also enjoyed a hot snack in the dining hall. All of the students received certificates in recognition of their excellent progress and work. A pupil described the day as " A brain testing, fun day!"
Mrs Kay
Director of Primary/Secondary Transition
Newsletters
Our latest Year 7 & 8 Newsletter, as well as our latest Main School Newsletter, are now available to download from our Newsletters section.
Testimonials From Parents
Our Year 7's are now all settled in and enjoying being part of Chislehurst School for Girls. Below are some testimonials we have received from our Year 7 parents so far.
---
"My daughter is loving being at Chislehurst School, she has settled in well and is enjoying all of her lessons"


" Our daughter is feeling very relaxed and settled now at School, she is enjoying the wide variety of subjects and all the extracurricular activities. A big thank you to all the staff for making this transition for her an enjoyable experience"


"My daughter was worried about starting Secondary School, but after her Induction Day and Summer School experiences she couldn't wait to start at Chislehurst School. She is enjoying her lessons and has made some lovely friends. Thank you very much to everyone who has made this possible"
Open Event Survey
89% agreed that found the online booking/registration easy and clear.
91% found the prospectus useful and informative
83% said the event was well publicised with clear information about timings
100% agreed the Headteacher's presentation was clear and informative
94% found the Virtual Events page clear, informative, and easy to navigate
97% were happy with the school's organisation of the night and social distancing rules.
Parents Comments:
"Really enjoyed the headteachers speech, very engaging and an absolute delight to hear how passionate she is about the school and its students".
"I think that it's excellent that you've taken the time to arrange this for the children, particularly when so many other schools are only offering online events. The fact that you have done this and also the content of the open evening has made me very likely to put your school down as our first choice. The video link of the new year 7s, the head girl talk, as well as Mrs French's presentation has convinced me that an all-girls school will be a good choice for my daughter".
"I felt the Headteacher's presentational was particularly inspiring for my daughter to watch. We were shown around the school by the Head of the lower school and she spoke very well about each department. Generally impressed".
"I was very impressed with the school and think my daughter would be very happy there"!
"Unfortunately, my original online booking was not picked up so I did not receive an appointment. I rang the school to make enquiries and Mrs Howard was extremely helpful and accommodating and booked me on to my first choice of visit - thank you! My twin girls really enjoyed the tour and have asked me to put CSFG at the top of the list".
"A very informative and COVID safe tour. Thank you"!
"Event was well organised and my wife and daughter were very impressed with your school".
"Really appreciate the school going above and beyond to help my daughter make an informed decision about her secondary school choices. Please pass my thanks on to all staff and pupils that made this possible".
"My daughter found the school very impressive and it has definitely given her food for thought on her school choices".
"I thought the event was really well organised and it is just a shame other schools are not following in your footsteps to allow pupils to view the school".
"I was extremely pleased when we visited the school. We were made to feel welcome, I liked how all members of staff engaged with my daughters as well as myself. It was extremely nice under the circumstances to actually be able to visit the school unlike most others. Thank you very much as we know how much time and effort went in to planning and preparing these open evenings".
"It was great that you were still able to hold the event. Would have loved to be able to see the school "in action" but totally understand why that was not possible. We will visit again hopefully when the school is more back to normal, we are looking for entry in 2022 not 2021 so still time. We were very impressed though".
"It looks a wonderful setting for girls to achieve the best education".
"Totally impressed with the Heads speech, being so new to the school, it's pretty obvious she has plans and a vision for the school. The evening was very well planned and fantastic that open evenings still went ahead, it is so hard to choose a school without actually visiting and getting a feel for it so thank you"!
"The Headteacher came across extremely well".
"The fact that the school organised an Open Event, despite having to put a lot more effort and time into it due to COVID, reflected very positively on the senior leadership. Thank you".
"Well done to the SLT team and teachers for enabling this event to take place whilst other schools have simply used virtual tours. You conducted a well informed and safe guide for us and our daughter and we are extremely grateful for the efforts the school made to make her feel welcome".
"I admire the school's determination to put an Open Day on, that they realise a compromised event is better than no event at all. Thank you".
"Wonderful School, welcoming and informative! We are keeping our fingers crossed that we will get a place".
"Wonderful to be able to have a look around was extremely impressed and my daughter wants it as her first choice! Fingers crossed".
"I very much enjoyed the opening presentation by the school headmistress. If the rest of her staff are as full of energy and enthusiasm as she is, then I really hope my daughter is accepted. The rest of the school came across very well. It was a good presentation".
"My daughter was very happy with the Open Event. I am looking forward to the admission for her".
"We really enjoyed the tour and the presentations were brilliant. Thank you".
"Well done for making the effort and going ahead with the open evening. A good insight into the school and important for my daughter to see what a secondary school is like in person. Excellent presentation from the Headteacher too".
"Thoroughly enjoyed the tour and the fact they were even offered as most schools aren't doing physical tours at all. I found the headteacher to be extremely engaging, enthusiastic, and passionate and all the other teachers present were also extremely helpful and easy to talk to with a strong passion for the school. Overall, myself and my daughter were very impressed with the school as a whole".
"I thought the whole afternoon was well thought through and organised. Well done CHSFG for opening your doors to us and making what should be an exciting time for our girls. The head of Year 7 was very helpful and informative too. Thank you very much".
Admissions